Iowa State, Ames Lab researchers honored for distinguished efforts to advance science
12-16-11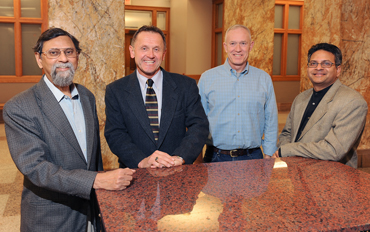 New AAAS Fellows, left to right, Vikram Dalal, Peter Nara, Steven Rodermel and Balaji Narasimhan. Larger photo. Photo by Bob Elbert.
Contacts:
Vikram Dalal, Microelectronics Research Center; Electrical and Computer Engineering; Ames Laboratory, 515-294-1077, vdalal@iastate.edu
Cynthia Jenks, Ames Laboratory, 515-294-8486, cjenks@ameslab.gov
Peter Nara, Center for Advanced Host Defense, Immunobiotics, and Translational Comparative Medicine; Biomedical Sciences; 515-294-2547, plnara@iastate.edu; Biological Mimetics Inc., 301-620-7691, nara@bmi-md.com
Balaji Narasimhan, College of Engineering; Chemical and Biological Engineering; Ames Laboratory, 515-294-8019, nbalaji@iastate.edu
Steven Rodermel, Genetics, Development and Cell Biology, 515-294-8890, rodermel@iastate.edu
Mike Krapfl, News Service, 515-294-4917, mkrapfl@iastate.edu

Iowa State, Ames Lab researchers honored for distinguished efforts to advance science
AMES, Iowa - The American Association for the Advancement of Science (AAAS) is honoring five researchers from Iowa State University and the U.S. Department of Energy's Ames Laboratory.
The five have been elected AAAS Fellows for their "scientifically or socially distinguished efforts to advance science or its applications."
The researchers and their award citations are:
These five are part of this year's class of 539 new AAAS Fellows. They'll be presented certificates and gold and blue (representing science and engineering) rosette pins on Feb. 18 at the annual meeting of the AAAS in Vancouver, British Columbia, Canada.
The AAAS is the world's largest general scientific society and publisher of the journal Science. The association was founded in 1848, includes 262 science societies and academies and serves more than 10 million people.
-30-