Iowa State wins $18.5 million grant to create NSF Engineering Research Center for Biorenewable Chemicals
09-05-08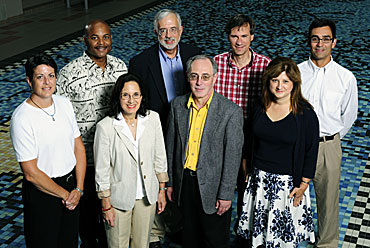 The Iowa State University leadership team of the new National Science Foundation Engineering Research Center for Biorenewable Chemicals includes, front row, left to right, Tonia McCarley, Adah Leshem-Ackerman, Basil Nikolau Jackie Shanks and, back row, Derrick Rollins, David Oliver, Brent Shanks and Raj Raman. Not pictured is Jill Euken. Photo by Bob Elbert.
Contacts:
Gregory Geoffroy, President, (515) 294-2042, geoffroy@iastate.edu
Brent Shanks, Center for Biorenewable Chemicals, (515) 294-1895, bshanks@iastate.edu
Basil Nikolau, Center for Biorenewable Chemicals, (515) 294-9423, dimmas@iastate.edu
Lynn Preston, National Science Foundation, (703) 292-5358, lpreston@nsf.gov
Mike Krapfl, News Service, (515) 294-4917, mkrapfl@iastate.edu
Iowa State wins $18.5 million grant to create NSF Engineering Research Center for Biorenewable Chemicals
AMES, Iowa -- The National Science Foundation has awarded Iowa State University and its research partners a five-year, $18.5 million grant to establish the NSF Engineering Research Center for Biorenewable Chemicals based at Iowa State.
The award is part of the National Science Foundation's Generation Three Engineering Research Centers (ERC) Program. The third-generation Engineering Research Centers are designed to create university and industry partnerships in research and education that promote innovation, transform engineered systems, advance technology and produce engineering graduates who can creatively contribute to U.S. competitive advantage in a global economy.
"This is an exciting development for Iowa State University," said Iowa State President Gregory Geoffroy. "The National Science Foundation's decision to establish a third-generation Engineering Research Center on our campus is a great endorsement of the work our faculty, staff and students have been doing in biorenewable technologies. And the new Engineering Research Center for Biorenewable Chemicals is a tremendous opportunity for Iowa State to work with partners in the United States and Europe to create a culture of innovation that can develop a sustainable chemical industry."
The goal of Iowa State's NSF Engineering Research Center for Biorenewable Chemicals (CBiRC) is to develop technologies that can transform today's petroleum-based chemical industry into an industry based on plants and other biorenewables. The center's focus will be to develop catalysts that promote the chemical reactions that can efficiently produce biorenewable chemicals. A unique strategy will be to integrate two research communities that haven't been working together: those studying biocatalytic technologies and those studying chemical catalytic technologies.
Another objective of the center is to educate undergraduate and graduate students to be creative, innovative engineers who can function in a global economy. The center aims to do that by exposing students to multidisciplinary research that can advance the production of biorenewable chemicals. Through international partnerships students will gain experience working in teams with faculty and students from other cultures. They will gain exposure to entrepreneurship and innovation through partnerships with industry, including startup companies and venture capitalists. The center's education efforts will also include programs for pre-college students and teachers that bring engineering concepts into their classrooms to stimulate students to study engineering and science.
The National Science Foundation is launching five Engineering Research Centers this year. The foundation's initial grants support five years of work: $3.25 million in year one, $3.5 million in year two, $3.75 million in year three, $4 million in year four and $4 million in year five. The centers may apply for a renewal that could extend the foundation's support another five years. After 10 years, the centers are to be self supporting.
Iowa State University -- through the Office of the Executive Vice President and Provost, the Office of the Vice President for Research and Economic Development and the colleges of engineering, agriculture and life sciences, and liberal arts and sciences -- is also committing $600,000 per year for the center.
Iowa State will lead the ten institutions affiliated with CBiRC. Brent Shanks, an Iowa State professor of chemical and biological engineering, will be its director and Basil Nikolau, the Frances M. Craig Professor in the departments of biochemistry, biophysics and molecular biology and food science and human nutrition, will be the deputy director. Another 16 Iowa State faculty members are expected to be affiliated with the center.
Shanks said the state of Iowa and university leaders made it possible for the project team to successfully compete for one of the research centers. He said investments in the university's Bioeconomy Institute and its Plant Sciences Institute helped attract the faculty and research capabilities necessary for the new center.
"It takes a lot of people pulling together and commitments at a lot of levels to make something like this happen," Shanks said.
James Bernard, an Iowa State Anson Marston Distinguished Professor in Engineering and interim dean of Iowa State's College of Engineering, said winning the science foundation's support "is a strong affirmation of our commitment to researching the science and developing the technologies that will produce a sustainable and prosperous future. The complexities of the problems we face are enormous, from climate change to sustainable infrastructure. Their solution will come from interdisciplinary and inter-institutional collaborations such as the new NSF Engineering Research Center for Biorenewable Chemicals."
CBiRC's academic partners are the University of New Mexico in Albuquerque, Rice University in Houston, the University of Wisconsin-Madison, the University of Virginia in Charlottesville and the University of California, Irvine. Affiliated faculty will also come from the University of Michigan in Ann Arbor and the Salk Institute for Biological Studies in San Diego. International partners are the Fritz-Haber-Institute of the Max-Planck-Society in Berlin, Germany, and the Technical University of Denmark in Lyngby. The center will also develop pre-college programs with Des Moines Public Schools and the Heartland Area Education Agency in Johnston. And the center will develop partnerships with industry as well as start-up companies through Iowa State's Pappajohn Center for Entrepreneurship and venture capital firms Khosla Ventures and Kleiner Perkins Caufield & Byers.
Lynn Preston, a deputy division director at the National Science Foundation and leader of the Engineering Research Centers Program, said "NSF is delighted to welcome Iowa State University into the ERC 'family.' CBiRC will contribute to the knowledge and technology platforms needed to develop chemicals from biorenewable feedstocks. The key technological backbone of the greater than $400 billion chemical industry is the suite of catalyst systems that facilitate the conversion of feedstock chemicals into the desired chemical products. One way to safeguard the future sustainability of the economy is to ensure that these feedstocks are based on renewable resources, not petroleum. We look forward to CBiRC graduates joining the next generation of leaders and innovators in building a sustainable chemical industry for the U.S."
The Engineering Research Centers Program was established in 1984 at the request of the White House and the National Academy of Engineering. The first generation of 19 centers, established between 1985 and 1990, focused on developing technological systems and the expansion of design and manufacturing studies in engineering education. The second generation of 24 centers, established from 1994 to 2006, focused on developing engineered systems that could transform industrial processes and products.
Shanks, a former employee of Shell Chemicals, said it will take a lot of research, education and training to develop a sustainable and biorenewable chemical industry.
The petrochemical industry has been developing catalysts and other technologies for producing fuels and chemicals from fossil fuel molecules for about 80 years, he said. Researchers working with bio-based molecules are just starting to develop the catalysts and technologies necessary to produce chemicals.
-30-