Grape acres in Iowa grow to more than 1,200 with help of Iowa State University
10-25-10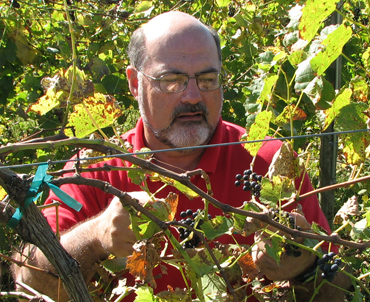 Extension viticulturalist Mike White examines some of this year's grape crop.
Contacts:
Murli Dharmadhikari, Food Science, 515-294-7211, murli@iastate.edu
Mike White, University Extension, 515-961-6237, mlwhite@iastate.edu
Dan Kuester, News Service, 515-294-0704, kuester@iastate.edu

Grape acres in Iowa grow to more than 1,200 with help of Iowa State University
AMES, Iowa - From 13 wineries and just two vineyards a decade ago, to more than 85 state-licensed wineries and more than 413 vineyards covering more than 1,200 acres this year, the Iowa wine industry is growing quickly, due, in part, to the help of Iowa State University.
There are vineyards in 95 counties and wineries in 55. The largest concentration is in Warren County, just south of Des Moines -- an area called the "Napa Valley of Iowa" by Iowa State University Extension Viticulturist Mike White.
A recent study commissioned by the Iowa Wine & Beer Promotion Board estimated the total economic impact of the wine industry on the state at $234.3 million.
White is on the front line of the work ISU does for the growing industry and has been involved in the growth of the wine business almost since its inception.
"I've worked with every one of the wineries, probably," said White. "I can't think of one that I haven't had contact with in some form or another."
White gives technical help to growers on how to pick the right soil, how to grow the grapes, how to control pests and diseases and many other problems growers encounter.
"Much of my time is spent on e-mail, where I answer questions from growers or give them a list of people who can answer their questions if I can't," he said. "People send me photos of bugs or diseases in their vineyards, and I tell them what to do about them."
A co-owner of the Two Saints Winery in St. Charles has asked White questions many times and his answers have been "awesome."
"We make a dry Frontenac and we had some black rot on [the grapes]," said Christine Carlton. "I had Mike come out and look, and he recommended we use a fungicide. He said he didn't know if it would work since the plants were pretty far gone. But we used it and the disease stopped."
"He saved the Frontenac that year," she added.
While White works closely with the growers, he admittedly doesn't have all the answers. He often refers questions to other growers and industry resources that may have solutions.
"The number one thing I do is network people together," he said.
In addition to the field work provided by White, ISU is also involved in laboratory analysis of wine.
Once the grapes leave the vine, Murlidhar Dharmadhikari, director of the Midwest Grape and Wine Industry Institute at ISU, works with wineries to improve the product. The institute offers fee-based services in an on-campus laboratory, with another lab set to open soon.
"With these labs, we will be able to provide assistance to the wineries," said Dharmadhikari. "That means if there is any problem, they can send us a sample. We can run the analysis, check the chemical composition. We can taste and smell the wine and tell them what is right, what is not right and help them so they can make a quality product."
Since the wine growing industry is so new in Iowa, Dharmadhikari says it is important to help the wineries produce high quality wine right away. If customers try Iowa wine for the first time and it is not good, they may never try it again, he said.
Leon Millot grapes taking in the morning sun.
Dharmadhikari is developing a system to ensure quality standards are met. The wines that meet the standards will carry a special seal on the label so the consumer can easily distinguish them as a quality product in the marketplace and purchase them with confidence, he said.
Quality assurance is one reason Dharmadhikari says that Iowa wine should continue to grow with the help of ISU.
"Iowa is a leader in corn production, egg production, soybeans, pork, all with some help from Iowa State," he said. "There is no reason we can't be a leader in cold-climate wine production."
Viticulturist White also thinks the future looks bright for the industry and believes there are several factors to why the industry has already grown so quickly in the state.
"Everybody worked together to make this happen, in Iowa," he said. "Iowa State, the Legislature, the Department of Economic Development, the wine growers association, the community colleges, the Department of Agriculture -- we've all worked in one direction. The goal for everyone has been to help this industry prosper, and we're doing it."
And, like Dharmadhikari, he thinks the future is even brighter for the industry.
"All the indicators point to wineries continuing to grow. These wineries are becoming meeting places and event centers," he said. "People are getting married at wineries, they are having meetings there, social groups are using them, chambers of commerce are holding events there. And as far as economic development, they are great for rural areas. It is like a pipeline of money going from the urban centers directly to the rural areas without going through a middleman."
All that revenue from hosting parties adds up. Carlton, of Two Saints, estimates that more than a quarter of the winery's revenue is from hosting events and other non-wine revenue streams.
Many Iowa winery's are growing and reinvesting much of their profits. Carlton says the winery is still trying to upgrade the consumers' experience.
"We're constantly improving stuff," she said. "We're not going to get rich doing this, but it's very satisfying. It's a great life."
-30-