ISU alumnus, bridal couture designer Matthew Christopher to give April 7 talk
03-30-11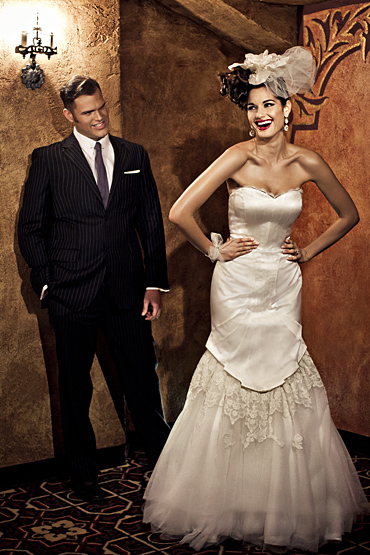 Iowa State alumnus Matthew Christopher (left) not only designs stunning wedding gowns like this one from his 2011 collection -- called "Hourglass" -- he also appears in the photos. Photo provided by Matthew Christopher Inc. (Download print quality photo)
Contacts:
Jessie Lyon, Matthew Christopher Inc., 813-695-3803, jessie@matthewchristopher.com
Becky Bradshaw, the Fashion Show 2011, 515-293-2226, beckyb@iastate.edu
Natalie Sanger Gendle, Textiles and Clothing, 515-490-6480, nsgendle@iastate.edu
Pat Miller, Lectures Program, 515-294-9935, pamiller@iastate.edu
Mike Ferlazzo, News Service, 515-294-8986, 515-450-2908 (c), ferlazzo@iastate.edu

ISU alumnus, bridal couture designer Matthew Christopher to give April 7 talk
AMES, Iowa -- Matthew Christopher (Sobaski) grew up on a pig farm in tiny Packwood, Iowa -- a town of a little more than 200 people near Iowa City. That's a long way from the New York City fashion district headquarters for Matthew Christopher Inc. -- his bridal fashion house and manufacturer where he serves as CEO, chief designer and creative director today.
An Iowa State University graduate who is now a prominent bridal couture designer, Christopher will discuss the path he took "From Small-town Iowa to New York Fashion Week" in a free, public lecture on Thursday, April 7, at 5 p.m. in Iowa State's Memorial Union Great Hall. He will also serve as guest designer for ISU's Annual Textiles and Clothing Fashion Show 2011, on Saturday, April 9, at 7 p.m. in Stephens Auditorium.
According to his company's website, Christopher's interest in bridal design began when he was a child looking at bridal magazines in a local grocery store. And then at age 16, he found his true calling when he went with his girlfriend to pick up her prom dress at a shop in Wellman.
"I just knew as soon as I walked in the door," Christopher said in a 2003 Cedar Rapids Gazette story. "Oh, my God, this is my business; this is what I have to do."
And that's just what he would do. Christopher would go on to work in that evening wear shop, where the owner, Lou Miller, became his mentor. He then attended the Art Institute of Chicago for a year before moving on to Iowa State, where he earned his bachelor's degree in apparel merchandising and design production.
He moved to New York City to begin his professional career and worked for such bridal fashion houses as Demetrios Bridal, One of a Kind Bride, Galina and Casablanca before creating his own label, Matthew Christopher Inc., in 2002 at the age of 26. Both of his parents -- Ken and Sandy Sobaski -- are partners in his company, which also has Iowa corporate headquarters out of the family's former 600-acre crop-and-hog farm, which is now located in Ollie, Iowa. His father first set him up in business out of Christopher's New York apartment and still serves as the company's chief financial officer.
Christopher's gowns -- which have been described by the fashion media as representing modern elegance combined with classic glamour -- are now available in more than 70 boutiques. They are regularly featured in such publications as Martha Stewart Weddings, The Knot and TheKnot.com.
In 2004 and 2005, Christopher was nominated for the Distinctive Newcomer award from a bridal industry group. He was nominated for a Distinctive Excellence in the Bridal Industry (DEBI) Award from 2004 to 2007, and nominated in the Prestigious Designer of the Year category in 2008.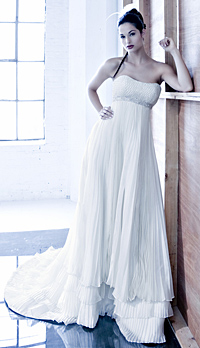 The 2010 movie "You Again" featured one of Christopher's 2007 gowns, called "Josephine" (photo right). Actress Kristin Chenoweth also wore a Matthew Christopher gown to the 2010 Creative Art Emmy Awards and was voted one of the "Best-Dressed Stars" by Marie Claire magazine.
Another Matthew Christopher gown, "Lalique," is currently on display in the "Weddings in the Heartland: Apparel, Traditions, Memories" museum exhibit in Iowa State's Mary Alice Gallery, 1015 Morrill Hall. The exhibit is open Monday-Friday, 11 a.m.-4 p.m. through April 16.
Christopher's talk is cosponsored by the Fashion Show 2011 and the Committee on Lectures, which is funded by the Government of the Student Body. More information on ISU lectures is available at http://www.lectures.iastate.edu, or by calling 515-294-9935.

-30-