ISU students provide costuming, dance to bring Reiman "Spirits in the Gardens" alive
10-13-11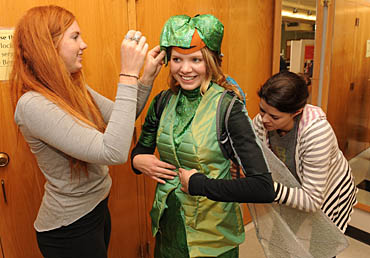 ISU apparel students Kaitlyn Clevenstine (left) and Marian Baggenstoss (right) fit dancer Laura Carr (center) with the dragonfly costume she'll be wearing at Reiman Gardens' "Spirits in the Gardens" program. Photo by Bob Elbert, ISU News Service (download print quality photo)
Contacts:
Sharon Wirth, Apparel, Merchandising, Design and Production, 515-294-6964, skwirth@iastate.edu
Ginny McKeever, Apparel, Merchandising, Design and Production, 515-554-1836 (c), gmckeev@iastate.edu
Janice Baker, Kinesiology/Dance, 515-294-3047, mover@iastate.edu
Maria Witte, Reiman Gardens, 515-294-4169, mozy@iastate.edu
Mike Ferlazzo, News Service, 515-294-8986, 515-450-2908 (c), ferlazzo@iastate.edu

ISU students provide costuming, dance to bring Reiman "Spirits in the Gardens" alive
AMES, Iowa -- There was literally a buzz of activity in the LeBaron Hall textiles and clothing lab recently as Iowa State University apparel, merchandising, and design (AMD) students swarmed around ISU dance models, fitting them with "living insect costumes" they created. You might expect a buzz as one dancer was transformed into a dragonfly.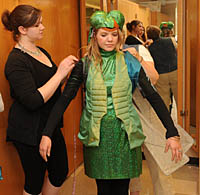 The bright green and blue dragonfly costume is one of six created by students from the textiles and clothing design seminar class to be worn by student dancers for the "Spirits in the Gardens" program at Reiman Gardens on Saturday and Sunday, Oct. 29-30, from 4-7 p.m. Students from ISU's dance program will also wear costumes depicting a grasshopper, ladybug, bumblebee, orchid mantis and butterfly as they capture the spirit of the insects through dance. Kids can also collect candy, enjoy craft stations, play games and hear tales from a story teller at the Halloween event, which is free for children 17 and under. It is also free for adult Reiman Gardens members, although non-member must pay standard admission price.
The program became a class project for the 20 AMD students, who got the opportunity to try custom costume design. In the process, they worked with professional costume designer Ginny McKeever, an ISU alumna who is collaborating with Sharon Wirth, lecturer and teaching lab coordinator, on the course.
"Our students are kind of traversing an arc of design to create a bug-inspired costume in whatever format they see fit -- producing it within the budget graciously offered by Reiman Gardens while custom fitting it to their dancer," McKeever said. "And producing it on time and within their budget is the arc of the course."
The course allows students to extend their design creativity beyond typical fashion projects.
"It's a lot more problem-solving and different kinds of problem-solving than our typical design classes," said Kaitlyn Clevenstine, an ISU senior who was part of the dragonfly design team. "I think that's because we're designing things that we've never done before through the use of non-traditional materials."
Nathan Brockman, Reiman Gardens' Butterfly Wing curator, provided the students some initial inspiration by bringing live insects representing the six costume subjects to class. But the costumes are not necessarily designed to be literal interpretations.
"They [the costumes] are the vision of apparel students of that insect, but I'd say it's a partially apparel and costume-related image," McKeever said.
While the apparel students created costumes representing their vision, kinesiology dance professors are working with six other students on the appropriate insect dance interpretation. The dragonfly will dance ballet; the grasshopper, country; the ladybug, salsa; the butterfly, the waltz; and the pink mantis, a slow, modern dance. The bumblebee, meanwhile, will be dancing "The Charleston" -- and for good reason.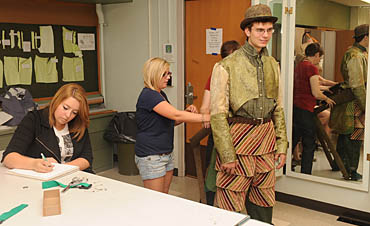 ISU student dancer Chris Stolte tries on his grasshopper legs as he's fitted for his costume by apparel students Courtney Carson (left) and Taylor Walters (center). Photo by Bob Elbert, ISU News Service (download print quality photo)
"We wanted to have higher-order learning for the children that wasn't just, 'Oh, I'm dancing around as this bug,' but rather, 'I'm dancing around understanding how my body moves in space and understanding the cultural significance of this insect,'" said Janice Baker, assistant professor of kinesiology/dance, who is working with the dance students. "And the bee is in a costume that historically has been a Charleston costume. So it was natural that the fashion of the time connects with the music and the dance."
Baker hopes her dance students can literally give their young audience a "bug's eye view" of the world of dance -- all within the context of a festive Reiman Gardens' Halloween celebration for children and their parents.

-30-