ISU's Sharp continues to assist Speedo in design of Fastskin│« Racing System
04-05-12
Video by Jairus Davis, College of Human Sciences.
Contacts:
Rick Sharp, Kinesiology, 515-294-8650, 515-230-9814 (c), rlsharp@iastate.edu
Audra Silverman, Brener, Zwikel & Associates (Speedo's® sports public relations in U.S.), 212-708-1703, 732-580-9719 (c), audras@bzapr.com
Mike Ferlazzo, News Service, 515-294-8986, 515-450-2908 ferlazzo@iastate.edu

ISU's Sharp continues to assist Speedo in design of Fastskin│« Racing System
AMES, Iowa -- When Iowa State University kinesiology professor Rick Sharp helped design Speedo's full-body, form-compressing LZR Racer® suit back in 2008, it marked the beginning of an era of greater success for swimmers, with a host of world records broken and 94 percent of swimming gold medals at the 2008 Beijing Olympics won by swimmers wearing the suit.
Following a change in FINA (Fédération Internationale de Natation) regulations concerning competitive swimwear in January 2010, Sharp has again worked with Speedo's global research and development facility, Aqualab, to create a suit that maximizes the performance attributes of swimmers while remaining in line with the updated rules from swimming's governing body.
The result: Speedo's new Fastskin³® Racing System - a cap, goggle and suit engineered to work together, offering swimmers a cohesive, hydrodynamic solution to cut through the water with maximum efficiency.
The Speedo Fastskin³ Super Elite Swimsuit incorporates an innovative 3D Zoned Compression fabric system throughout. Through this system, the female suit features compression around the bust and hips, sculpting the swimmer's body into a tubular shape to create the most efficient and hydrodynamic swimming shape form in the water, reducing skin friction drag by up to 2.7 percent.
Racing system includes new goggles, cap
The 'Racing System' concept also includes the Speedo Fastskin³ Super Elite Goggles, designed utilizing accurate 3D global head scanning data to deliver unparalleled accuracy of fit, leak resistance and comfort while redefining goggle aesthetics and technology, together with the Fastskin³ cap, also developed using 3D head mapping data, made to fit head and face contours exactly, delivering optimum comfort, outstanding hydrodynamic performance and ease of use.
Sharp says the key design element continues to be drag reduction, or reducing the friction in the water that slows a swimmer's time:
"I came into this with the fundamental notion that all suits slow swimmers down because they add drag," Sharp said. "And if we can design suits that don't add as much drag, then swimmers' native performance capacity will be able to be expressed better. I think we were able to do that with the LZR Racer suit. And we hope we've done that with the Fastskin³ Racing System, too."
Testing during development of the Fastskin³ Racing System showed that the new cap, goggle and suit can produce a full body passive drag reduction of up to 16.6 percent. That includes an up to 11 percent improvement in the swimmer's oxygen economy - enabling them to swim stronger for longer - and an up to 5.2 percent reduction in body active drag.
Iowa State swimmers conduct testing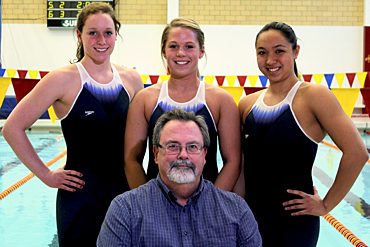 Iowa State kinesiology professor Rick Sharp called upon Cyclone swimmers (L to R) Amanda Paulson, Bri Carlberg and Imelda Wistey to test out Speedo's new Fastskin³® Racing System. Photo by Jairus Davis, College of Human Sciences.
Iowa State swimmers assisted Sharp in testing prototypes this past summer, and were more than happy to contribute.
"It's a really cool experience to be testing the suit. I feel honored," said Bri Carlberg, an Iowa State junior from Statford, Iowa. "And it's great that Dr. Sharp is here to help us by showing us how to put it on and where it's supposed to lay on you."
To achieve optimum fit, The Speedo Fastskin³ Racing System utilizes a new, anatomical marking system, 'Fit Point Markers,' at strategic points across the cap, goggles and suit, which indicate how to align the Racing System accurately on the body to achieve optimum fit for the perfect 'tubular' body shape for swimming. On testing the Racing System at the Big 12 Swimming and Diving Championships, Imelda Wistey, a sophomore from West Des Moines, Iowa, said:
"There's much more comfort in the upper body because it's not just sucking us in. Instead it tucks the butt under, so it makes your butt flat. It's really tight along the legs, but most importantly, it's tight along the chest. So it flattens us up and I noticed a difference when I swam."
Speedo swimmers are already achieving impressive results wearing Fastskin3, including Michael Phelps, who claimed three gold medals at the Columbus Grand Prix in Ohio in March, including an impressive time of 1:55.32 in the 200-meter freestyle. Phelps, the most accomplished swimmer of all time, has led the plaudits for the Fastskin3 Racing System, saying: "Speedo Fastskin3 makes me feel completely at one with the water. I feel confident, I feel comfortable and I feel like I am wearing the fastest."
Emphasizing the philosophy that the swimmer inside the suit remains the most important factor, Sharp added, "All of us who worked on the design of the suits and the caps and the goggles always feel a certain degree of ownership and feel pretty proud when somebody succeeds. But we're realists, too. We know these athletes are elite and 99.9 percent of what they accomplish is due to the work and talent that they have - not due to the suit."
-30-