Iowa State researchers contribute to Nobel-Prize winning climate change panel
10-12-07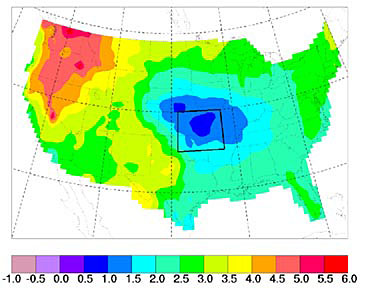 This image shows how much daily summer high temperatures are expected to increase from the 1990s to the 2040s, according to a climate model prepared by the Iowa State University Regional Climate Modeling Laboratory. The model suggests summers will be warmer across the U.S., but the central part of the country will warm less than the rest of the country.
Contacts:
Gene Takle, Geological and Atmospheric Sciences/Agronomy, (515) 294-9871, gstakle@iastate.edu
Bill Gutowski, Geological and Atmospheric Sciences, (515) 294-5632, gutowski@iastate.edu
Ray Arritt, Agronomy, (515) 294-9870, rwarritt@bruce.agron.iastate.edu
Mike Krapfl, News Service, (515) 294-4917, mkrapfl@iastate.edu
Iowa State researchers contribute to Nobel-Prize winning climate change panel
AMES, Iowa -- Three Iowa State University researchers have contributed to the Intergovernmental Panel on Climate Change, the international collaboration that was awarded a share of the 2007 Nobel Peace Prize today.
Ray Arritt, a professor of agronomy; Bill Gutowski, a professor of geological and atmospheric sciences; and Gene Takle, a professor of geological and atmospheric sciences and agronomy, have contributed as authors and reviewers for the panel's 2001 and 2007 assessments of climate change.
The three researchers have worked together on climate studies for 15 years and are now studying regional climate change.
In announcing the 2007 Prize, which also went to former Vice President Al Gore, the Norwegian Nobel Committee stated:
"Through the scientific reports it has issued over the past two decades, the (Intergovernmental Panel on Climate Change) has created an ever-broader informed consensus about the connection between human activities and global warming. Thousands of scientists and officials from over one hundred countries have collaborated to achieve greater certainty as to the scale of the warming. Whereas in the 1980s global warming seemed to be merely an interesting hypothesis, the 1990s produced firmer evidence in its support. In the last few years, the connections have become even clearer and the consequences still more apparent."
The panel on climate change was established by the World Meteorological Organization and the United Nations Environment Program in 1988. The role of the panel is to make comprehensive assessments of the scientific basis of climate change, its potential impacts and options for mitigation.
Takle makes strong statements when he goes before groups to talk about climate change.
"There is no question now that the climate is changing on a global scale," he says. "The evidence is so overwhelming."
Gutowski said the peace prize also sends a message to the world about climate change.
"It's more validation that the scientific community is on the right track," he said.
And yes, he said, he's glad to be among the hundreds of scientists who have contributed to the Nobel-Prize winning panel.
-30-